Thank you for your interest in working with Ketubah Ink®! We are delighted to be a part of the process of creating a unique custom ketubah for your upcoming wedding. There are two parts to creating your ketubah : custom artwork and text.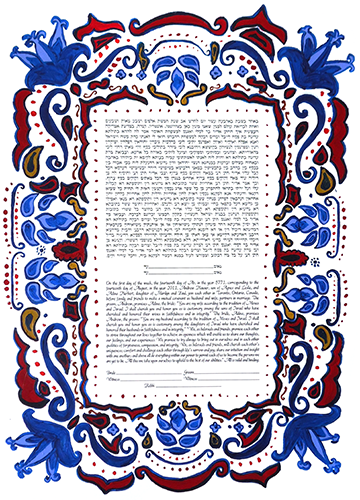 After you make initial contact with Ketubah Ink®, we will reach out to you to discuss your own personal style as well as your artistic preferences. You can browse the Ketubah Ink® collections to see what has been created for others, and bring inspiration of your own to the conversation. We use only acid-free archival materials that will ensure that your ketubah remains well preserved over time. We will work with you to develop a ketubah that reflects who you are as a couple. After a series of conversations about your choices and stylistic preferences, we will create a proof of the artwork for your approval. We will work collaboratively with you until you are satisfied with the final result. After your final approval is given, the formal artwork will be created. Your ketubah will be unique and one-of-a-kind. It will reflect your values and commitment to each other, as well as your hopes and intentions for the future.
There are many different types of ketubah text available. You may choose from our many text samples, or you may choose to write your own text. We recommend that you consult with your wedding officiant before choosing a religious text to ensure that it meets your officiant's requirements as well as your own preferences. While traditional Orthodox and Conservative ketubah text is written in Aramaic and can also be translated into English, most other texts are available in Hebrew or English versions. Please do not hesitate to ask any questions about the ketubah text! Once you have chosen a text, you will provide us with personal details so that the text can be customized. After your final approval, the text will be printed using only archival materials.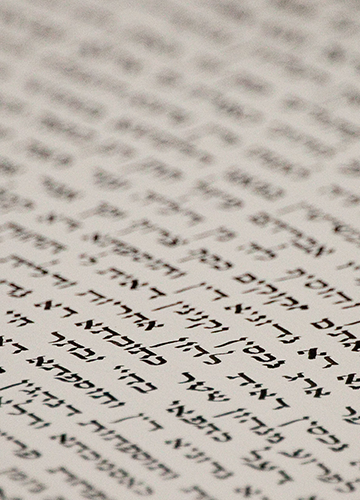 Whether you are looking for a unique gift to acknowledge your appreciation for your parents or loved ones, or celebrating someone's anniversary, new home, or other important milestone, Ketubah Ink® will work with you to create the perfect custom work of art to mark the occasion. All artwork is custom made and can include personal names, dates, favorite quotes, or warm wishes. Please contact Ketubah Ink® for more details!
A custom work of art is a beautiful way to celebrate a new life. Ketubah Ink® is proud to introduce a new line of baby gifts to celebrate the birth of a loved one! Collaborate with Jenny Herbert and Ketubah Ink® to create a one-of-a-kind piece that will be cherished for years to come.